Chu Xi Ye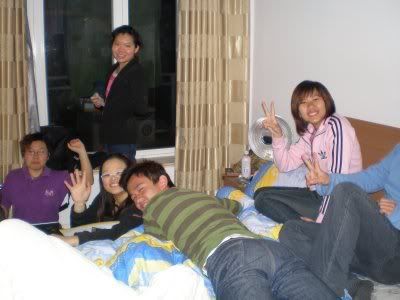 see? everybody likes my room. haha
It was potluck and we had ALOT of food!
food cooked by jiaxin n my apartment mates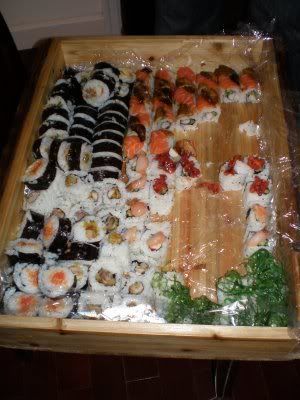 ben's sushi !!
there's no LAOSHENG in CHINA!!! so we could only make do with yamseng. but we ROCKED the house down!
then we played blackjack (i won RMB2=S$0.40 :/ )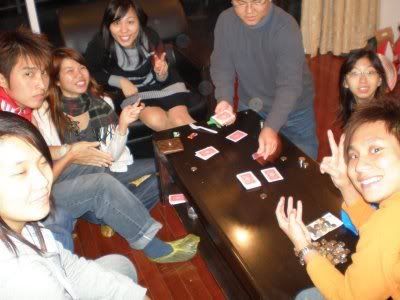 Yuanfeng (the one giving out cards) lost his pile of money. to where? to Yinghong la! (you know who he is :))
at 11.30pm, we made our way down for fireworks and firecrackers!!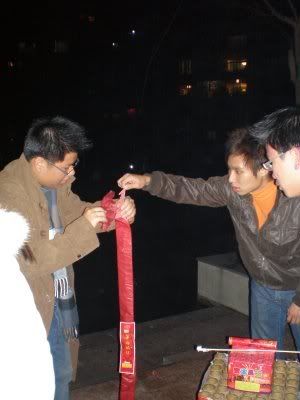 due to limited budget, our firecrackers were... pathetic. explode half way some more! spoilt one. haha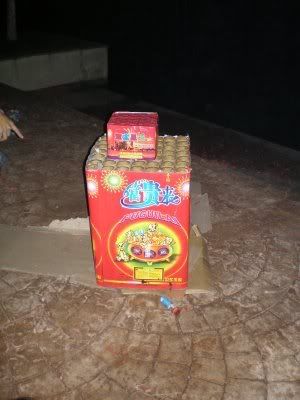 big box not ours. SMALL ONE IS. :/
cny in china is warzone! we were screaming and running here and there, avoiding fireworks tht exploded EVERYWHERE. even the security guards were setting off fireworks! one grp of fren did not make it to our house cos they were too afraid to get out frm their house because of all the excessive fireworks! Explosion went on through the night. it was crazy.
quite an accurate depiction of wat we were experiencing tht night.
We had a successful reunion dinner at my house! and eveyrbody was very amazed by my room. it's supposedly a baby room with see through glass (no curtains) and nice lightings, i guess. and all of them call it the 鱼缸room. :D